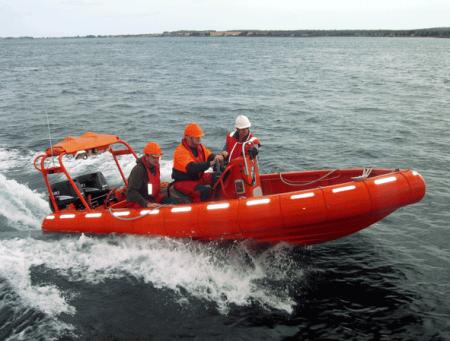 $350
This 8-hour Lifeboatman-Limited course will satisfy requirements for vessels without lifeboats. This means other lifesaving devices such as the IBA, Life Raft, Life Floats, or a small rescue boat, e.g. johnboat with outboard motor, etc. If you work on a STCW covered vessel, this includes PSC Limited and you may need Basic Safety Training.  If the vessel IS equipped with a lifeboat, Proficiency in Survival Craft Unlimited (PSC) is required.  This course does not fulfill PSC Unlimited requirements.
This course may also be taken as a hybrid.  You complete the academic portions online from home and visit the school for 1 day to complete exam and practical assessments.
This course also includes the required USCG Approved lifeboatman-limited practical demonstration.
It states - This Lifeboatman-Limited course satisfies the written "Survival Craft" examination requirements of 46 CFR 12.409 for any endorsement as Lifeboatman-Limited restricted to vessels without lifeboats.
You will have to show proof of 46 CFR 12.409, General requirements for Lifeboatman-limited endorsements. 4) The practical demonstration must consist of a demonstration of the applicant's ability to - (i) Take charge of a rescue boat, liferaft, or other lifesaving apparatus during and after launch; (ii) Operate a rescue boat engine; (iii) Manage a survival craft and survivors after abandoning ship: (iv) safely recover rescue boats; (v) Use locating and communication devices.
And, request review based on criteria after March 24, 2014.
COURSE TOPICS
Life-saving Appliances: Lifefloats, Lifejackets, Immersion suits, Anti-exposure suits, Emergency training and drills.
Liferafts and rescue boats, Marine evacuation systems/slides.
Survival craft operations, Stowage of survival craft, Survival craft embarkation, Survival craft launching, Survival craft recovery, Rescue boat embarkation, launching, and recovery.
Survival at sea procedures, Station Bill/Muster list and emergency instructions, Manning of survival craft, Man-Overboard Procedures, Survival in the water, Helicopter operations, Small boat operations with oars.
Search and rescue equipment, VHF/FM marine radiotelephone, Search and rescue transponder, Distress signals, Line throwing appliances, and Alarm systems.
Basic first aid review.
Survival Craft Operation and Management (practical component)
EXAMS
Lifeboatman: 50 questions. Need 70% or 35 correct minimum passing score.
Practical Demonstration of rescue craft management.